BeeJeeBee

medic


Posts

: 2


Reputation

: 0


Join date

: 2021-11-18

Thu Nov 18, 2021 10:20 pm
I'm really enjoying the game but having issues with the gift shop. I built one in my hospital but couldn't get it to work. Trying to resolve it I built 2 additional gift shops but none of them are working. Did built a lobby and the lobby is working.
Am I overlooking something stupid or is this a bug? I tried to investigate the matter myself but couldn't find how to get it to work.
Any help on the matter or just confirmation that this is indeed a bug would be greatly appreciated.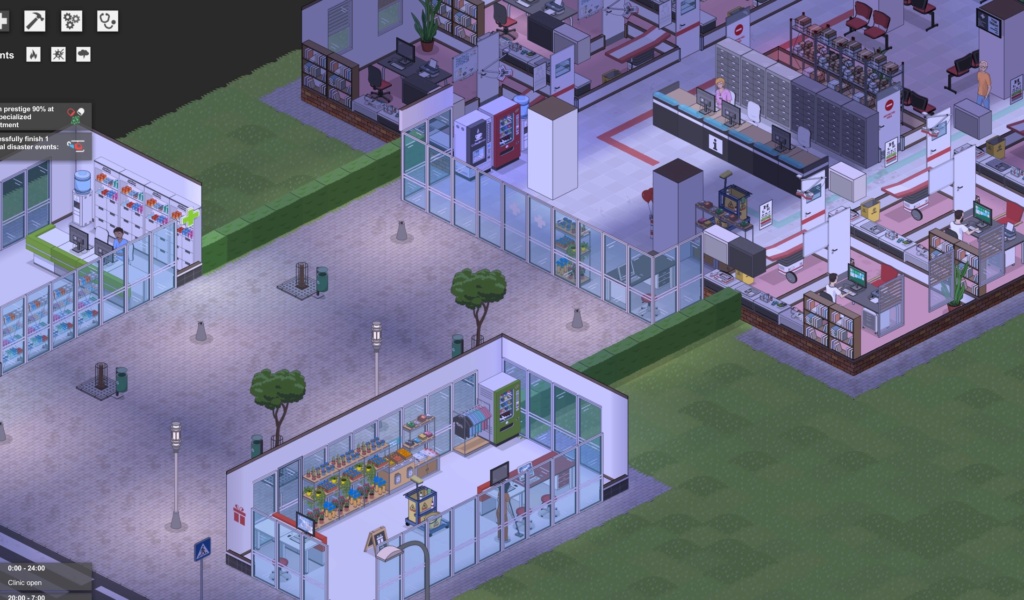 Attachments

E75.zip

You don't have permission to download attachments.

(2.6 Mb) Downloaded 1 times
jan.oxymoron

developer


Posts

: 2208


Reputation

: 318


Join date

: 2018-03-23

Mon Nov 22, 2021 12:52 pm
Hi, thanks for the message! Looking at the save, I can see that the the gift shop vendor doesn't have the matching skill - which is interesting, when you're hiring employees for this room, the game only offers you candidates that are qualified for the position.
Have you by any chance reassigned a janitor/manager from another room? Having quickly checked, the game doesn't prevent this from happening, so we have a candidate for a quick fix for the next patch.
BeeJeeBee

medic


Posts

: 2


Reputation

: 0


Join date

: 2021-11-18

Thanks for your reply.

I feel kind of stupid because I never looked at janitors I could hire for the gift shop (with specialization) and my own janitors.

What was/is confusing is that you do not seem to be able to choose specializations for janitors that level up or am I missing something?
Also there is a difference between for example doctors and nurses in the management mode (nurse at the reception, with specialization Receptionist, Doctor in on-call room, specialized in operative surgeon vs Manages the gift shop and sells gifts to vendors). Same also applies for the Janitor manager and on a small side note, shouldnt the Janitor manager be removed from the night in the management mode overview?

Background: playing a game where I only hire one star employees and level and train them on the job.

Thanks for helping me out, I know what's wrong now and thanks for the great game!
Permissions in this forum:
You
cannot
reply to topics in this forum