babavaz59

medic


Posts

: 2


Reputation

: 0


Join date

: 2018-11-03

Hi,
I'm sorry for my English, I'm a French player.
I'm on MAC version 1.0.14303 -- OSX 10.14 Mojave
Description :
I think it's a bug of the emergency clinic. At the beginning of the day, my doctors take patients in the Waiting Room to take them in charge. It's normal. But as the day progresses, the doctors doesn't call patients anymore but they are inoccupied. So the patients leave the hospital untreated at 6pm. I have 7 doctors for a max of 40 patients. It's means 6 patients by day, by doctors. Why the patients are not called by the innocupied doctors ?
Reproductibility
Each day on my save game...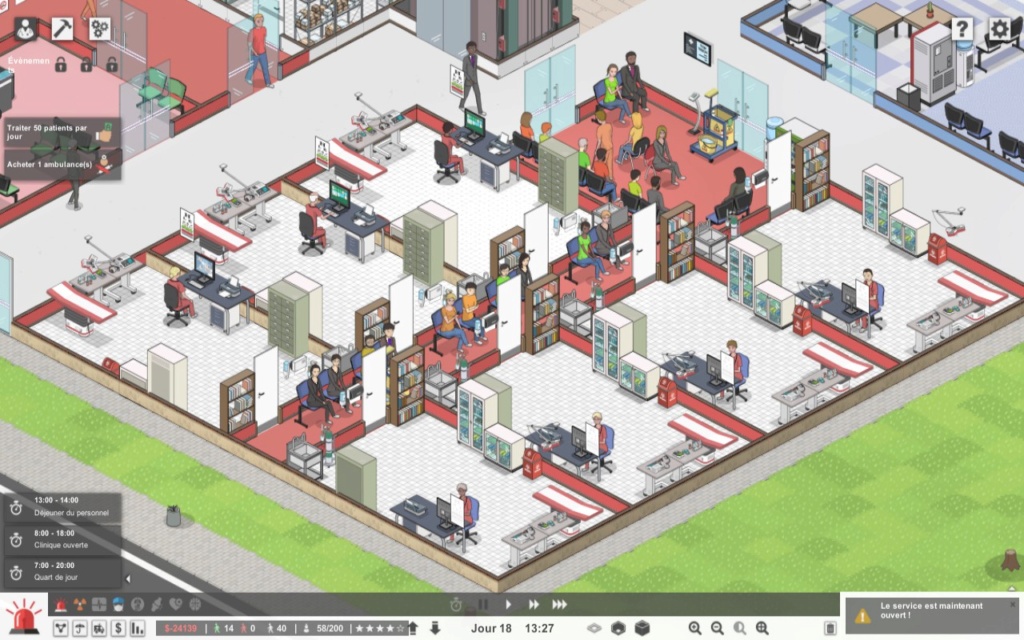 Thanks a lot !
Baptiste
Attachments

Save and Log.zip

You don't have permission to download attachments.

(704 Kb) Downloaded 1 times
jan.oxymoron

developer


Posts

: 2308


Reputation

: 334


Join date

: 2018-03-23

Sun Nov 04, 2018 10:52 am
Message reputation : 100% (1 vote)
Hi, thanks for the report, hopefully this is not a bug though.
As I saw a lot of people in the waiting room waiting for laboratory test results, it lead me to what's wrong: there's no staff assigned to day shift in your STAT lab - most of the tests take only a couple of hours, so the lab is meant to work during the day as well. Also, adding a waiting room next to the lab should make the clinic work much more smoothly, I got 34 treated patients the next day with this change.
Hope this helps!
babavaz59

medic


Posts

: 2


Reputation

: 0


Join date

: 2018-11-03

Sun Nov 04, 2018 11:53 am
Hi,
Thanks for the solution, It works ! I can treat all my patient without this mistake. I also create a second lab, the first one is too busy
You made a wonderful game. Thanks !
It's solved for me.
Permissions in this forum:
You
cannot
reply to topics in this forum