on Thu Nov 08, 2018 1:01 am
Sometimes I receive this popup :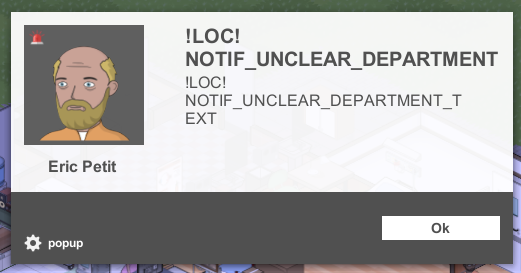 !LOC! NOTIF_UNCLEAR_DEPARTMENT
!LOC! NOTIF_UNCLEAR_DEPARTMENT_TEXT
Savegame :
https://drive.google.com/open?id=1PKWoh-T2WUXsjhjud3B_ymep-7BUXGT1
Beat regards,
Bluecandy !
on Thu Nov 08, 2018 10:43 am
Hello - nice catch! thanks for the report - we will fix it as soon as possible

Cheers

on Fri Nov 09, 2018 10:49 am
Hi, this is one of the messages added to the game right before release, so it's not yet present in the community translations. I'll let the translators know and it should be included in one of the upcoming patches.
Thanks!

Permissions in this forum:
You
cannot
reply to topics in this forum