Pablit0

intern


Posts

: 4


Reputation

: 0


Join date

: 2018-08-27


Age

: 31


Location

: Brussels

Mon Nov 12, 2018 12:26 pm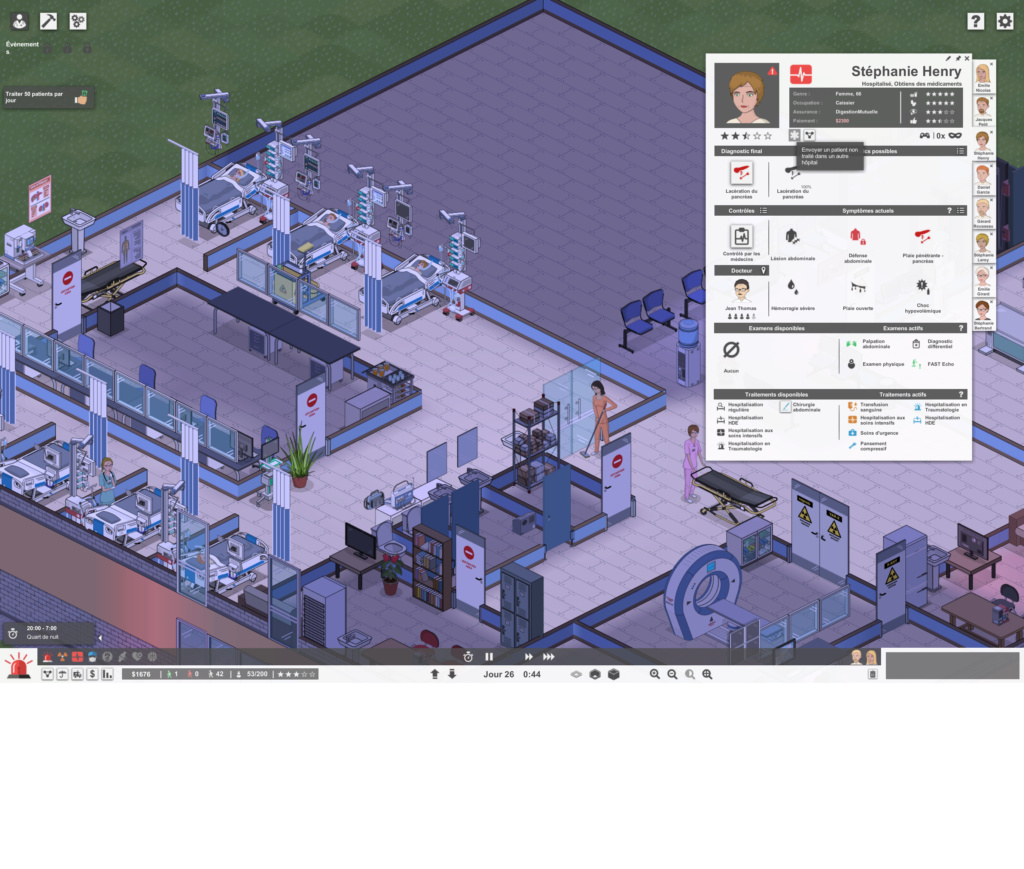 Hi!
My patient is stuck in her bed for more than 10 days now.
I can't do anything. I sent her to an other hospital, but it doesn't work, nothing happenned.
On the top of the picture, it says that she is getting some drugs. But noone came.
She doesn't move (toilet... nothing). The nurses don't even come to check her.
The bed is not available for others patient. I don't know what to do next. It's like she doesn't exist.
Thnak you
Attachments

Paul.zip

The first bed in intensive care :) 1st floor

You don't have permission to download attachments.

(890 Kb) Downloaded 3 times
jan.oxymoron

developer


Posts

: 2309


Reputation

: 335


Join date

: 2018-03-23

Hi, thanks for the report! It's a bit hard to guess if it's the same case, but we fixed one issue related to medicine delivery in the latest patch so it shouldn't at least happen again. But I can think of a hotfix that will get the patient unstuck even in this case.

As you mentioned this has been 10 days already, do you by any chance remember if you fired any nurses from the ICU before you noticed the stuck patient?
Cheers!
Pablit0

intern


Posts

: 4


Reputation

: 0


Join date

: 2018-08-27


Age

: 31


Location

: Brussels

Thanks for the answer!

I still have the problem, after I update my game today. My patient is still in her bed.

As long as I can remember, I've never fired one of my ICU nurse.
I hope it will help you.
Permissions in this forum:
You
cannot
reply to topics in this forum