MedJet

specialist


Posts

: 209


Reputation

: 2


Join date

: 2018-11-21

Hello, didn't want to let this one go by as I had to fire a good doctor because of it. Pic and save included. I transferred this doc from clinical ER dept to trauma. Upon doing so doctor went idle and couldn't be brought back to active state. I tried to adjust roles, relocating workspaces and shifts. When i changed shift she would offset on the seat.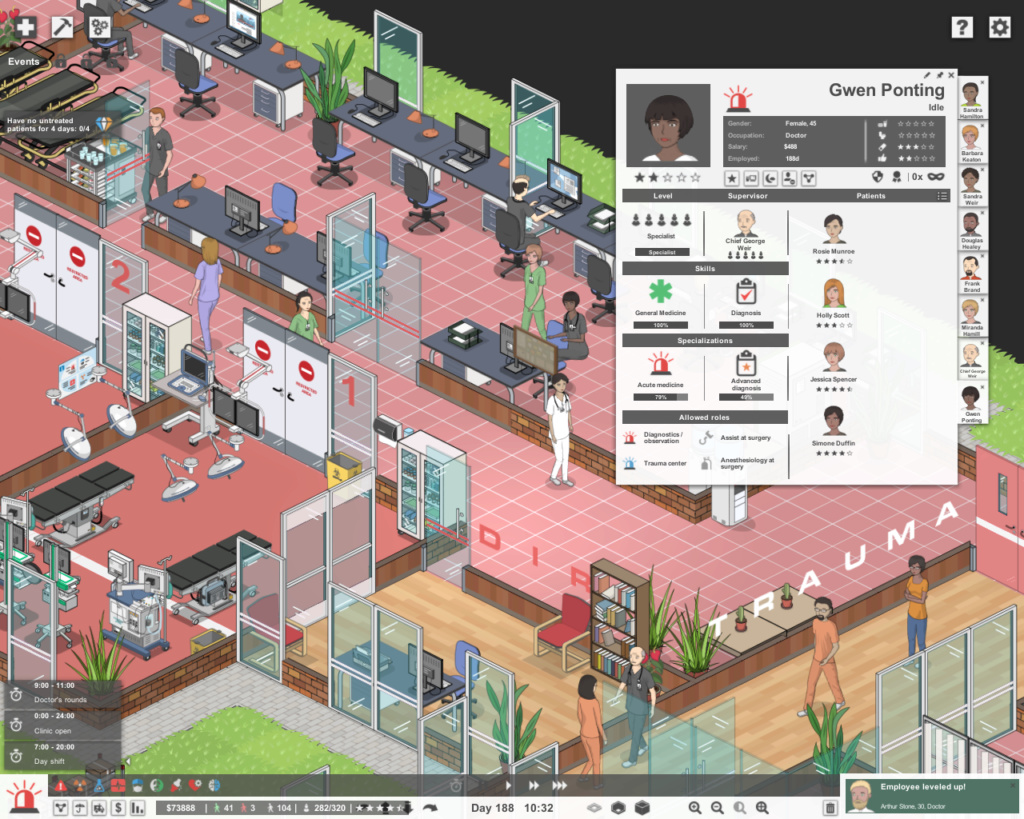 Attachments

FRINDS.zip

You don't have permission to download attachments.

(2.4 Mb) Downloaded 1 times
jan.oxymoron

developer


Posts

: 2309


Reputation

: 335


Join date

: 2018-03-23

Hi, thanks for the report! Good news, there's a workaround if you'd like to still continue with the original save - switch to the first patient of the doctor (Rosie Munroe) and send her home, the doctor will then switch to 'normal' behavior as soon as the patient leaves the map.

Now, it would be great if we could figure out why the doctor ended up reserved by a patient who has been assigned to another doctor in the meantime. Do you by any chance remember if the doctor was examining this patient at the moment you switched the workspace to trauma?
MedJet

specialist


Posts

: 209


Reputation

: 2


Join date

: 2018-11-21

Anecdotally here's what I've noticed about patient - doctor assignment (in trauma particularly). Frequently when a patient arrives the doctor they're assigned is not the one performing stabilization or diagnoses and treatment tasks. It would be nice to see the greater continuity in trauma between doctor assignment in relation to the doctor actually performing the procedures. I don't believe the doctor was examining a patient when they were switched to trauma.

thanks for the reply.
Permissions in this forum:
You
cannot
reply to topics in this forum