danaaa

intern


Posts

: 6


Reputation

: 0


Join date

: 2019-11-10

Sun Nov 10, 2019 10:15 pm
Hello, I've just started the game and only moved to the first level of main campaign. Everything looks quite fine in the translation, except the most important thing - [b]
tutorial
[u].
Can't say how it looks like in English version, but in Polish there are huge errors in the very tutorial messages. Such as: text cut (like someone just ctrl+x'ed part of the text and then placed "." right after), too many text (text overflows the window, which means it idoesn't match the space, hence is cut), translation errors (like missing words, overcomplication, grammatical errors which make understanding of the tutorial a pain).
I had a few stops trying to find things or do things that tutorial required from me to move on or only guessing what it might want from me.
I would like to suggest revising the tutorial, as it is is barely acceptable in its current state :<
danaaa

intern


Posts

: 6


Reputation

: 0


Join date

: 2019-11-10

Sun Nov 10, 2019 10:32 pm
Ok.. later on isn't better. Here is a quick example. (Not to mention that texts' in the first mission first suggest I work now for BadMed to help their hospital stand up again, but then it turns out I run away from BadMed and work against it...).
That's kind of enough for me. Guess I have to learn a lot about medical terms in English in order to play the game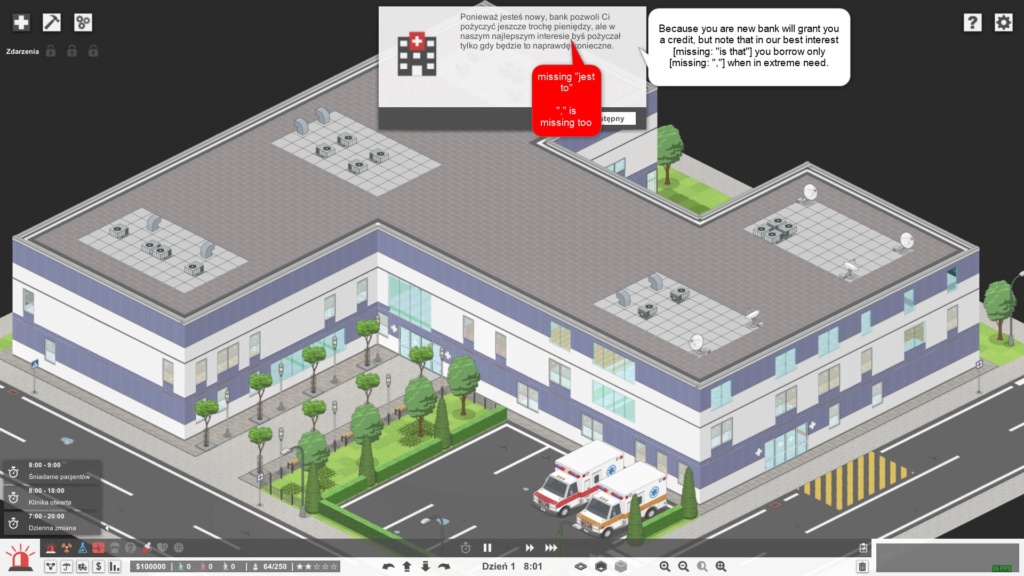 Permissions in this forum:
You
cannot
reply to topics in this forum