solabraicity

resident


Posts

: 10


Reputation

: 2


Join date

: 2018-11-12

Hello,
I play Project Hospital on Good Old Games. I have a windows 10 laptop and have purchased all addons.
After buying and installing Infectious Diseases, certain objects in all my hospitals have switched appearance but still do what they are supposed to do.
For example, the food counters in the cafeteria look like parts of stretchers but still let people get food. The balloons, magazines, fruit, etc. in the gift shop appear to be parts of stretchers, projector screens, infection stretchers, etc.
I waited to report this issue expecting others to have this problem and hoped they'd report it. I assumed it would be fixed with the Traumatology update. But nope. So maybe the issue is just with me?
I modify the game in the tweakables file whenever there is a new update (automatically installed) so that I can have more than four floors and more than three insurance companies at once, but those are the only parts I tweak.
Unfortunately my knowledge with computers is... well I'm about able to install and update games, but not anything more complicated. I don't know how to take a screenshot of the game or how to upload it here if I even managed to take the picture. So if you need more information than I have gathered, please give me detailed instructions.
Thank you,
Veronica
Attachments

squarehospital.zip

You don't have permission to download attachments.

(1.8 Mb) Downloaded 1 times

output_log.txt

You don't have permission to download attachments.

(136 Kb) Downloaded 1 times
jan.oxymoron

developer


Posts

: 2309


Reputation

: 334


Join date

: 2018-03-23

Wed Oct 21, 2020 10:11 am
Hi, thanks for the message and letting us know about the issue!

I quickly checked a fresh install of the GOG version and everything seems to be ok there, so hopefully this is not a wide-spread issue. The best guess is that when you installed Infectious Diseases, for some reason Galaxy didn't update Hospital Services (which changed at the same point to make space in the textures for new graphics for Infectious diseases).

So, hopefully an easy fix: could you try to uninstall and reinstall Hospital Services and let us know if it helped?
solabraicity

resident


Posts

: 10


Reputation

: 2


Join date

: 2018-11-12

Hello,

I apologize for not replying for quite some time. I got a concussion shortly after reporting my issue and have slowly been recovering since.

Looking at GOG games, I tried to figure out how to uninstall and reinstall. I confess: I don't know how to uninstall hospital services without uninstalling the entire game.
Could you please give me some instructions? I could uninstall everything but I'd rather not lose all my save data if avoidable.

Thanks,
Veronica
jan.oxymoron

developer


Posts

: 2309


Reputation

: 334


Join date

: 2018-03-23

Hi Veronica, thanks for the update!  No worries at all - we wish you a quick recovery!
If you're using GOG Galaxy, you can find the settings under Manage Installation -> Configure and you should be able to select the individual DLCs. The client should then show a progress bar on top and update the installation. If you downloaded installers directly from their website, getting the latest one and installing over the current version should work as well.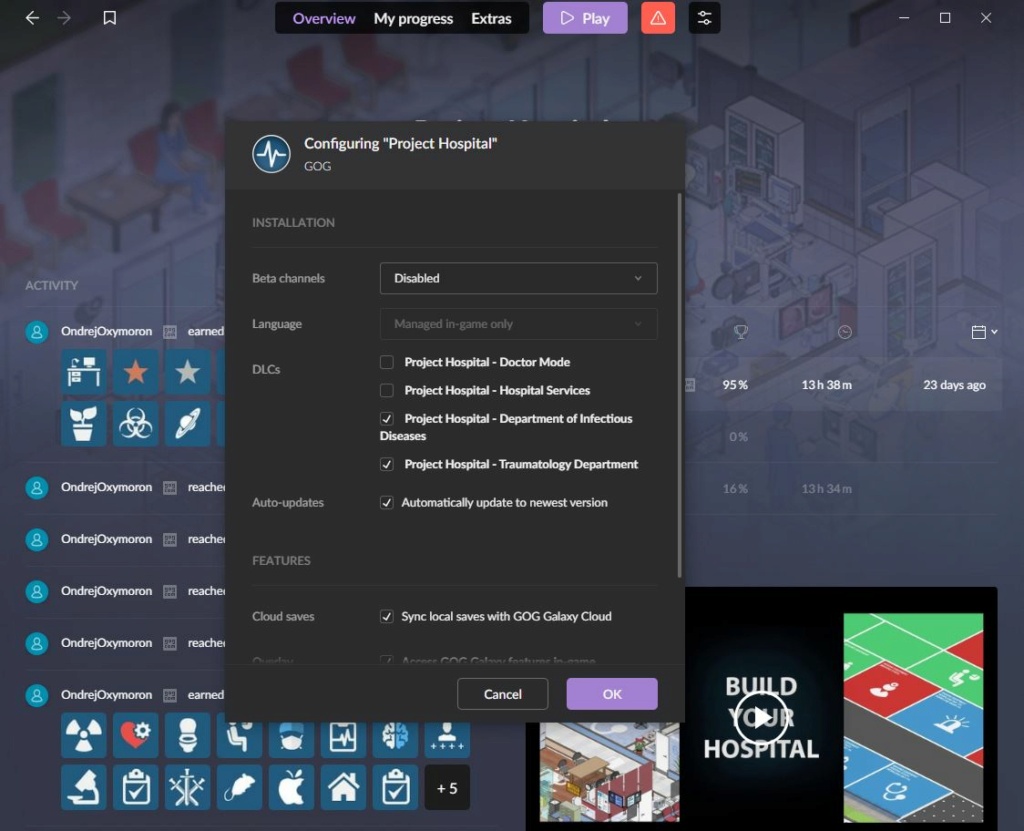 Let us know how it went!
Cheers, Jan
solabraicity

resident


Posts

: 10


Reputation

: 2


Join date

: 2018-11-12

Thanks for the help!

Everything is going just fine now. The instructions did the trick.

Thank you very much,

Veronica
Permissions in this forum:
You
cannot
reply to topics in this forum