phoenixPH

medic


Posts

: 1


Reputation

: 0


Join date

: 2020-10-25

Sun Oct 25, 2020 10:02 pm
Hi,
Issue:
In the "build mode (F6)" i cant scroll through the pages in the "wall section". It stucks at 1/2, there are no 2nd page.
I can hear the sound when i use the mouse wheel but nothing happen. All other menus work as they should.
Additional Infos:
- I dont use any mods.
- Project Hospital v1.2.21620
GOG
- all 4 DLC installed
Image: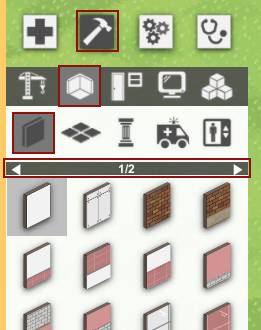 greeting
phoenix
ondrej.oxymoron

developer


Posts

: 605


Reputation

: 55


Join date

: 2018-03-23

phoenixPH wrote:Hi,

Issue:

In the "build mode (F6)" i cant scroll through the pages in the "wall section". It stucks at 1/2, there are no 2nd page.

I can hear the sound when i use the mouse wheel but nothing happen. All other menus work as they should.

Additional Infos:

- I dont use any mods.

- Project Hospital v1.2.21620

GOG

- all 4 DLC installed

Image:

greeting

phoenix
Hi and thank you for the report. You will be glad to hear that it will be fixed in the next patch:) Also it is just cosmetic bug, and there is actually nothing on the second page. So no missing walls here:)
Permissions in this forum:
You
cannot
reply to topics in this forum