bqrrdzj

medic


Posts

: 2


Reputation

: 0


Join date

: 2021-06-30

Hello, I would appreciate it if I could get some help. I bought Project Hospital via the Steam several days ago. However,  the game crashed when it ran from settings interface to main program. Specifically, settings interface is without any problem
, but the game crashed when I click the button "play!"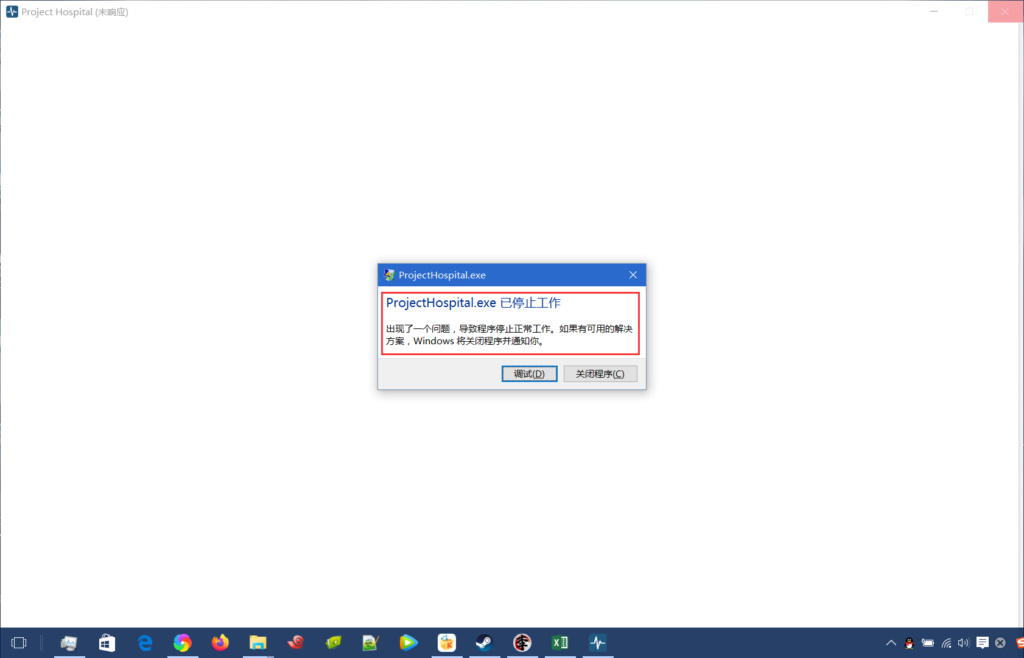 .
It confused me and I could not play this game. I attempted to solve them by myself but failed.
So, I hope the problem could be solved through this forum. Thank you.
Files "output_log.txt" and "error.log" were uploaded as attaches.
Some contents of error.log are shown below:
Project Hospital by Oxymoron Games [version: Unity 2018.2.17f1_88933597c842]
d3d11.dll caused an Access Violation (0xc0000005)
 in module d3d11.dll at 0033:0f240030.
Error occurred at 2021-06-30_203856.
E:\Program Files (x86)\Steam\steamapps\common\Project Hospital\ProjectHospital.exe, run by admin.
Attachments

output_log.txt

Location: C:\Users\admin\AppData\Local\Temp\Oxymoron Games\Project Hospital\Crashes\Crash_2021-06-30_123853389

You don't have permission to download attachments.

(29 Kb) Downloaded 1 times

error.log.txt

A mistake occured when this file was uploaded with its original name (error.log), so I just renamed it as error.log.txt without any other change. Its location is the same as that of

You don't have permission to download attachments.

(62 Kb) Downloaded 2 times
jan.oxymoron

developer


Posts

: 2240


Reputation

: 325


Join date

: 2018-03-23

Hi, welcome to the forum and thanks for letting us know about the issue!

Looking at the details, the problem will be somewhere between the graphics subsystem of the Unity engine that the game uses and the graphics card drivers on your system. Unfortunately these problems are pretty rare so we haven't found any one specific cause, but there are a few workarounds that you can try that helped other players:

- I'd definitely recommend starting by checking/updating your graphics drivers (also, if you have a laptop with integrated Intel graphics, the Intel drivers can be causing similar problems)
- As the error comes from the DirectX libraries, maybe running the game using OpenGL or Vulcan graphics API can make a difference. You can enable these in LAUNCH OPTIONS in the GENERAL tab under the game's properties on Steam, fill in for example -force-vulkan
- We have a version of the game built with a slightly different version of Unity available on a beta branch, it helped a couple of players - you can also find this under properties on Steam, then BETAS and select bold-text-fix

I hope at least one of these helps and sorry for the inconvenience!
bqrrdzj

medic


Posts

: 2


Reputation

: 0


Join date

: 2021-06-30

Fri Jul 02, 2021 12:19 pm
Thanks for your reply. I have tried to enter the game by the last two suggestions, and unfortunately it did not work on my laptop. My laptop has integrated Intel graphics and NVIDIA GeForce GTX 1060 6 GB (Driver Version: 27.21.14.6647), and I ensured that the game is run by the high-performed NVIDIA processer.
-First, I run the game with LAUNCH OPTIONS -force-OpenGL and -force-vulkan respectively, but it still crashed.
-Then, I tried to run it with 4 beta versions (i.e. beta - old testing version ...,  beta - debugging ...,  beta-patch-37-test ..., and bold-text-fix ...), and they could not help me solving this problem.
-After these attempts, I downloaded the game on a desktop computer with operating system Win 10 (1909) and GPU NVIDIA GeForce GTX 1060 6 GB (Driver Version: 27.21.14.5671) through the Steam, the game is able to run without any problem (I first played Project Hospital and found that it is absorbing
). However, the GPU of my laptop is totally same as that of the desktop computer, and even the former has a newer graphics driver version. But operating system of my laptop is Win 10 (1511), Does too old Win 10 version cause the strange problem? For my laptop, Windows update always failed due to unknown reason, so I have to stay in Win 10 (1511). But the laptop could run other games without problem.
-In order to solve the problem, I decided to update graphics driver version (about version 30.) but this version is incompatible with the Win 10 (1511), causing blue screen.
Therefore, I am confused. Finally, perhaps I have to reinstall my operating system to solve it as a last resort , which is too tough for me. I look forward to hearing from you for some advice and thank you very much because I like this game very much.
jan.oxymoron

developer


Posts

: 2240


Reputation

: 325


Join date

: 2018-03-23

Hi, thanks for the update, I'm sorry to hear that none of the workarounds seem to have helped.
The way you describe the issues with your windows update/drivers, it's of course possible these can be related to the crash, but still, I think it's worth it to try to also update your integrated graphics drivers - this starts to look pretty similar to what a few other players encountered and reported in another thread here on the forums:
https://projecthospital.forumotion.com/t2802-resolved-game-crashes-on-start-no-citrix-laptop-with-intelnvidia-gpus
The TL/DR is: sometimes only the intel drivers from your laptop's manufacturer work correctly.
Permissions in this forum:
You
cannot
reply to topics in this forum