Mellowlynx

intern


Posts

: 3


Reputation

: 0


Join date

: 2018-11-05

Okay, I will try to keep it short and clear...
I see a lot of times that patients are not getting the treatment they need.
At the clinic it works out most of the time, but hospitalized patients is a different story.
I have see multiple times that when I request a treatment for a patient it takes a long long time to get that treatment.
But it gets worse, match match worse!
I had a patient that was collapsing and I requested a transfer to the ICU,
it took a bit but the patient was transferred and somehow helped a bit but not enough.
At that point I felt what was coming so I did get screenshots.
The patient is in ICU and still collapsing btw. (game is not saying it, but you can see that allot of symptoms are red and pulsing)
You can also see that I requested treatments to help... But that is the doc doing... PLAYING A CARD GAME!!!
(yes you see her screen, and HER patient is dying on the other side if the wall behind her!)
At this point it's 3:53 on Day 26
Second image... You lost a case.
She is on her way back from checking the patient. Yep, just checking. She did not start any treatment.
And time of dead is: 4:56 Day 26. Just one hour later.
R.I.P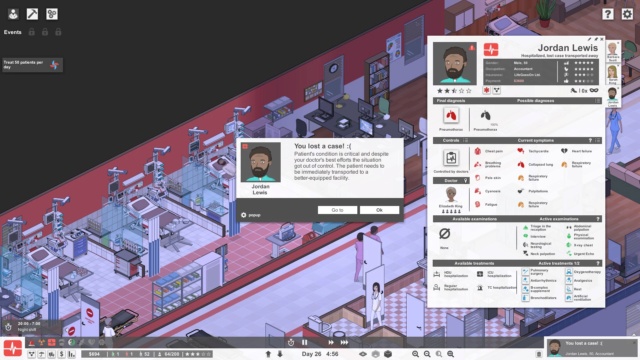 I do hope this is a bug and something is not right.
I hope my story can help improve this game, I like it and would hate if this is it.
I you need more info or have questions, please let me know.
I will be happy to provide any info needed to fix this.
Cheers,
Richard
igor.oxymoron

developer


Posts

: 347


Reputation

: 25


Join date

: 2018-03-23


Location

: Czech republic

Mon Nov 05, 2018 11:04 pm
Hello! Thank you for the report - how did you describe it - it is very usefull - please could you upload also save game file and output_log? it will be very helpfull to figure out what went wrong. We will analyze the situation and create efective fix as soon as possible.
We are sorry for experienced inconveniences.
On the other hand we are also happy that "pc card game" is really recognizable
Mellowlynx

intern


Posts

: 3


Reputation

: 0


Join date

: 2018-11-05

Tue Nov 06, 2018 11:34 am
Hi, here are the files.
I did play for some time after this happened, so hope the output_log is usable.

Let me know if you need more.
jan.oxymoron

developer


Posts

: 2309


Reputation

: 335


Join date

: 2018-03-23

Hi, looking at the screenshots, this was a patient that was waiting for surgery - and if there's no surgical team available during the night, it's a long wait. There are a few options:
- Don't risk, get the patient transferred to another hospital
- Hire a surgical team for night shift at Internal medicine
- Switch the patient to player control, cancel the surgery and let the other treatments be performed first, maybe the surgeons on day shift will still be able to save the patient
Note: the surgery is on top of the list because it is needed for one of the critical symptoms
I'll double check the saves, but hopefully this is not a bug.
Mellowlynx

intern


Posts

: 3


Reputation

: 0


Join date

: 2018-11-05

Hi, Thanks for the replay.

I hope it's not a big to! but still.
Is it possible to change the way patients are getting treatments (maybe just when hospitalized)?
So when that need to wait for 1 and 3 but 2 and 4 are available that they get those treatments in the meantime.

Included is a save file from today.
Sort of the same case. but also look at the other patients in the hospital...
Some have see a doctor but did not get the treatments yes.

For some reason I do hope I do something wrong, but having this match patients not getting treatments is not good.

I also noticed that patients with unknown symptoms have not had a "Physical examination"... Uh.. this is the first ting after a interview a doctor will do.
This I think should change.

Anyway, thanks for taking the time to check my findings/problem.

Once again, let me know if you need more info.

Cheers,
Richard
Permissions in this forum:
You
cannot
reply to topics in this forum