F1ghter

medic


Posts

: 2


Reputation

: 0


Join date

: 2019-03-15

Thu Jun 06, 2019 10:56 am
I have a lot of patients collapsing because when they are sent to the observation room to get examined it takes a while to get treated.  Once the doctors have found the diagnosis and once they diagnose them, the department of the patient automatically changes, but if there are not enough available beds in that certain department, they stay in the observation room and the observation room doctors won't perform examinations or treatments on them, causing them to collapse overnight.
This could be more of a suggestion than a bug, but I think observation doctors should still examine or treat a patient's even if the department has changed, but if they are still in the room.
My ICU is usually full because I see the blinking eye icon on patients in the observation room but even when I select examinations to be performed, they are not performed because the patient is waiting for a bed in another department. Therefor Observation room doctors won't do anything.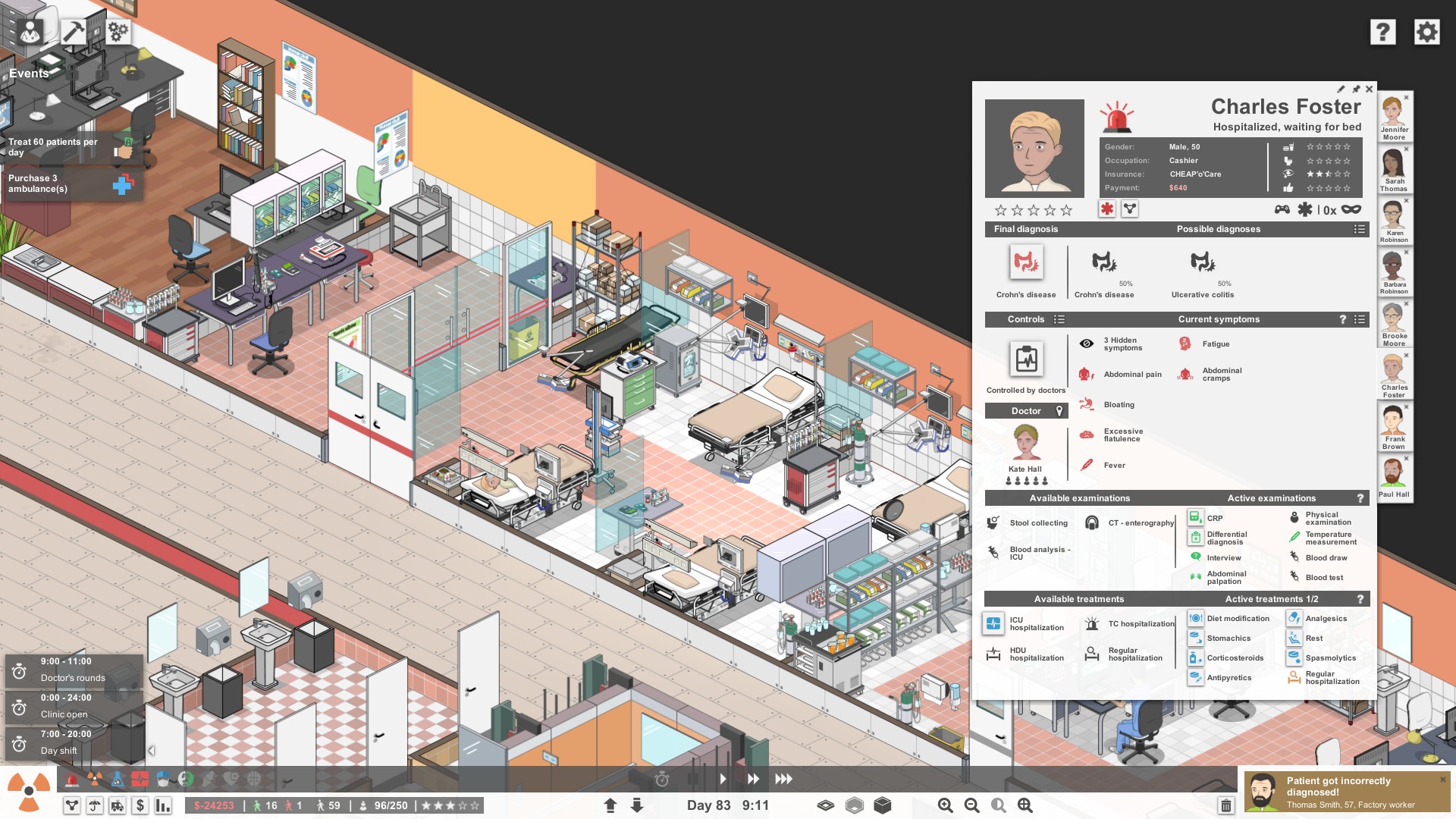 1313e

resident


Posts

: 17


Reputation

: 1


Join date

: 2018-10-31

Thu Jul 04, 2019 10:57 am
Do you also have 2 nurses available for that treatment, per patient?
If not, the game will reserve a nurse (or none) and a doctor for the treatment, and will wait until it can find another nurse available.
While being reserved, NPCs will not do anything (including seeing to their needs and regardless if it is staff or patients).
You need to make sure that all required staff members for the treatment are available, plus an extra nurse (for transporting the patient).
jan.oxymoron

developer


Posts

: 2309


Reputation

: 335


Join date

: 2018-03-23

Tue Jul 09, 2019 12:21 pm
Hi, sorry for the late reply - basically this is the intended behavior, only staff from patient's department get selected to perform examinations and treatments. In a way this should also work as motivation to have enough capacity at the different departments to be able to admit all patients the insurance companies send there.

One useful workaround, although it woudn't apply in this case, is to select HDU even if the patient only needs regular hospitalization in case there's some extra capacity available there.
Permissions in this forum:
You
cannot
reply to topics in this forum