alfa

intern


Posts

: 9


Reputation

: 2


Join date

: 2018-10-30

Okay, this was a tricky one. If something isn't clear, let me know. I first noticed a nurse picking up a patient out of the blue in an OR. As I was recording this and looking at the game log, I saw the
[Nurse Lisa Anderson , 1003000811]: No elevator!
message and took a look around.
Floor incorrectly not accessible for patients
This is a 3 floor hospital. First floor is emergency department, second is unused and the third is surgery. There are three elevators, and
I tried to make one of them staff-only by marking a line of staff only-access in front of it.
This seems to make the whole floor not accessible (for patients) (and I guess thus causing the nurses to pick up patients out of the blue as shown in the video below).
Staff only elevator, and NOT ACCESSIBLE warning: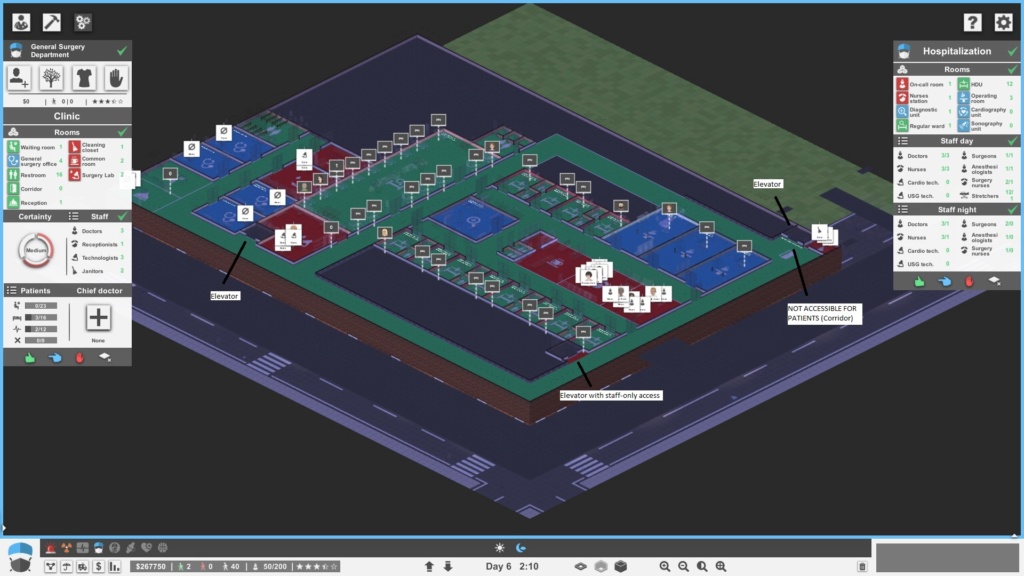 Removed the staff only: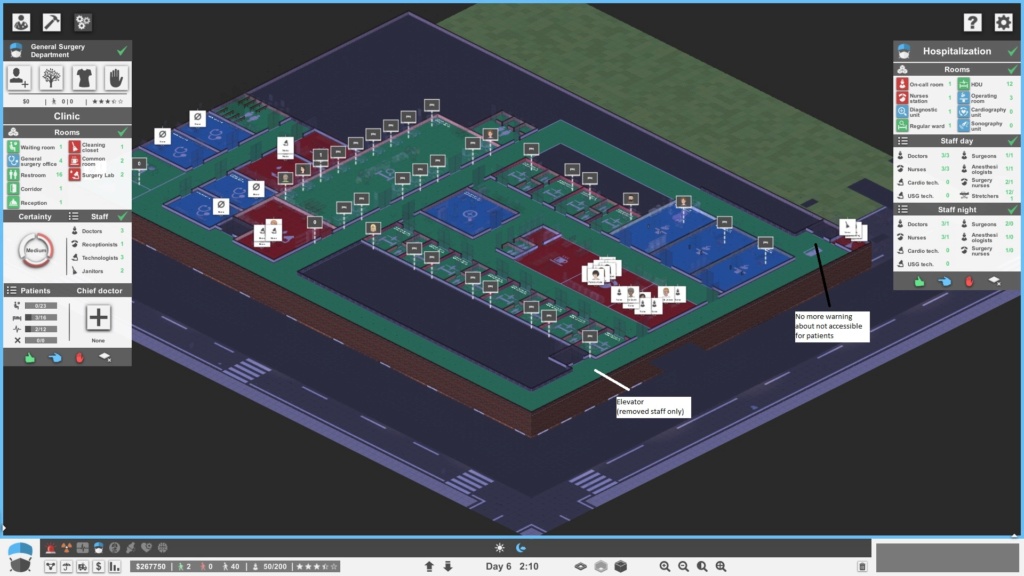 Nurse picking up patients from floors below ("no elevator")
As mentioned above, a nurse picks a patient up from out of the blue. From the charts it seems that the patient actually is in the MRI room at the same location as the OR, just two floors down.
Attachments

ac9_output_log.zip

game log

You don't have permission to download attachments.

(27 Kb) Downloaded 0 times
jan.oxymoron

developer


Posts

: 2309


Reputation

: 334


Join date

: 2018-03-23

Hi, thanks for the detailed report!

First a quick explanation about how the "not accessible for patients" state is evaluated: in green rooms, which are normally expected to be fully accessible, if an object is on a tile marked in red, it will cause this warning to show up.
Could you try the following workaround?
- Delete the corridor
- Recreate it, but don't paint it over the 4 tiles in front of the elevator (the elevator buttons are actually objects)
- Paint the 4 tiles in front of the elevator red again (so it's red, but not a room)

Let me know if it helped, cheers!
alfa

intern


Posts

: 9


Reputation

: 2


Join date

: 2018-10-30

Just tested it.
The warning disappeared and it seems like the nurses started using the elevators for trans-floor transports.

Thanks!
Permissions in this forum:
You
cannot
reply to topics in this forum